House of the Century UP123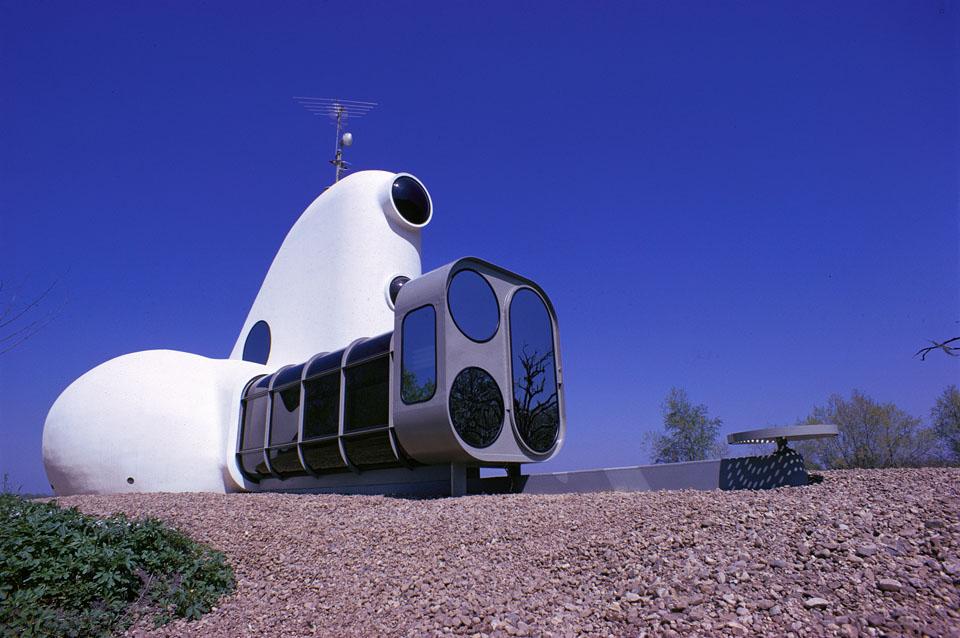 In 1971, an affluent young couple (Marylin and Alvin Lubetkin), fascinated by Ant Farm's approach, gave the group of architects carte blanche to design their weekend house. Built in 1973 on the shores of Mojo Lake, not far from Houston Texas, this "House of the Century" comprises living areas on the ground floor and a tower. Although constructed in durable materials, the house's organic forms recall the inflatable structures created by Ant Farm – notably the
ICE-9
prototype. Using self-construction principles and based on an artisanal utilization of reinforced concrete (sprayed onto a metal framework), the architects ended up with this playful and suggestive form – a pop object rising in the middle of a natural landscape. The project also explored the theme of architecture as a space of exchange and communication. Here as elsewhere, Ant Farm encouraged a particular way of exchanging about projects with its clients, by means of photo montages or drawings done with colored crayons, an approach that was willfully contrary to all conventions of architecture.
The House of the Century
met with great success upon its completion, winning the jury prize awarded by
Progressive Architecture
magazine. Damaged by repeated flooding, the house is now virtually destroyed.